Pocket Watch Care
Preparing your watch for use
When you receive your new pocket watch, please ensure you remove all protective films. These are clear plastic and often marked with a coloured dot to make them visible.
Your Watch is opened using the button above the crown. Just push the Botton in and the front should pop open to reveal the watch face,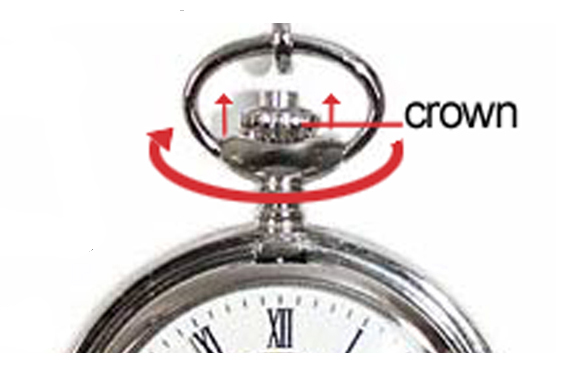 Changing the time on your watch
Open the watch and pull the crown upwards, you should feel a slight click and you can now move the crown freely in a clockwise direction to change the time. One the time is set, ensure you push the crown firmly back into place,
Battery Information
Your pocket watch is complete with a 1.5v AG4 battery. Should you need to change the battery, please follow the instructions below.
Changing the battery
If your battery stop working, you may need to change the battery. You can take your watch to the Jewellers for this or follow the directions below.
1) Find the crescent indent along the edge of the watch back
2) Use a blunt, thin object placed in the crescent to gently pry the back off. You can use a butter knife for example.
3) Remove the plastic insert and replace the battery. Be sure to replace the plastic insert before firmly squeezing the back of the watch back in place.