Lighter Care
To fill your lighter
Hold the lighter case in one hand, use the other hand to remove the insert (1)
Lift the felt pad (3) and fill slowly with lighter fluid taking care not to spill it. Never overfill your lighter.
Return the insert to the case. Wipe lighter and hands dry before igniting.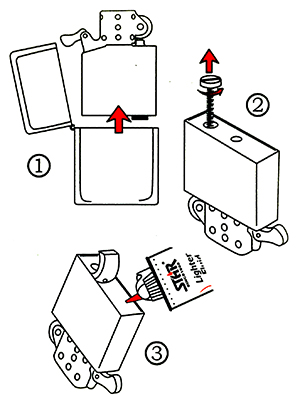 To replace the Flint
Remove the screw (2) and attached spring at the end of the fuel chamber.
Be sure the old flint is removed from the tube, replace flint and screw tightly. If the wheel binds after change the flint, wheel backwards a few times.
Wick Maintenance
When the wick becomes black, pull it up with tweezers until clean wick appears. Trim the end, making it even with the chimney height. This should be done 1 -2 times a year.